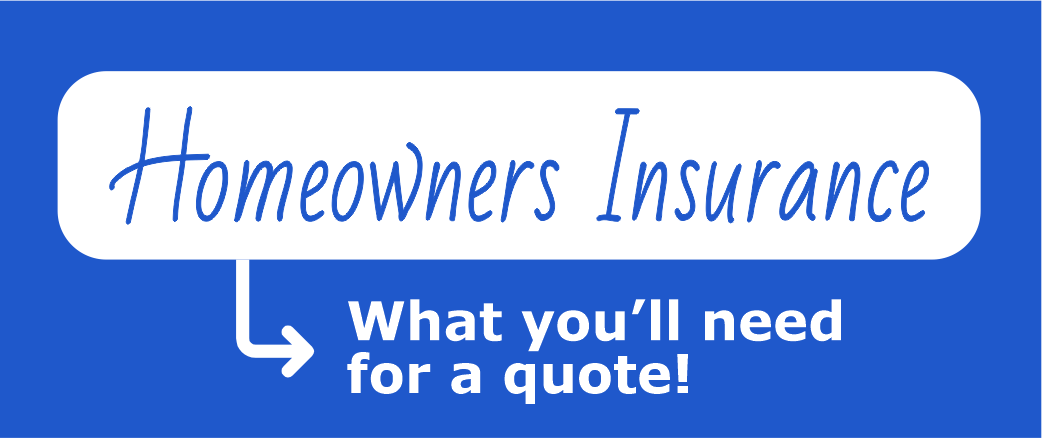 Obtaining an insurance quote requires a lot of information. This checklist is here to help you obtain an insurance quote with ease and to avoid the need to call back again for missing information. 
WHO OWNS THE INSURANCE POLICY?
A Homeowners Insurance Policy is a contract that is a promise to pay in the event of a loss. The contract is made between the insurance company and the owner(s) of the home – that is, whoever is on the title of the home.  
The info you'll need:
Who is listed on the title (is the home in your name, two names, or perhaps more than two?) Address and contact information will be required for each person on the title.
The effective date of the policy (the closing date of your house)
Previous property insurance history (If you have held tenants' insurance before, get the company name, policy number, the number of years you have held it, and your loss history.
The address of your new home (number, street name, postal code)
Your mortgage company (full company name, address, postal code)
HOUSE CONSTRUCTION & PROTECTION
The insurance company will want information about the house itself in terms of its construction, size, and age.  
The info you'll need:
The year the house was built
Square Footage (not including the basement)
Structure type (detached, semi-detached, townhouse)
Number of units (if it has more than one unit, like a duplex, for example)
How far away is it from a fire hydrant (is it more or less than 500m from a hydrant) Google street view is a handy tool. You can also measure distance via google maps.
How far away is it from a fire hall (is it more or less than 5km away).
What is the house constructed of? It's more than likely wood frame construction with brick veneer and/or vinyl siding.
THE GUTS OF THE HOUSE:
Not only does the insurance company want to know about the exterior, but they will ask for information about the electrical, plumbing, heating, and roof.  
The info you'll need:


Electrical
What type of wiring is in the home -  Copper is most common. For aluminum (around the 1970s) or knob & tube wiring (before 1960), you will be likely asked for an Electrical Safety Authority (ESA) certificate confirming that it is safe.
Service amperage - 100amp is most common. 200amp is more common on newer builds.
What year was the electrical last updated?
Plumbing
What type of plumbing is used for the supply lines? (usually copper or plastic PEX)
What type of plumbing is used for the drain lines? (usually black ABS, but sometimes cast iron if an older home)
What year was the plumbing last updated?
Roof
What type of roof covering? (more than likely asphalt shingles)
What year was the roof last replaced?
Heating
What heats the house? (Furnace, baseboard heat, geothermal?)
What fuels the heating appliance (natural gas, oil, electric?)
When was the heating appliance last updated/serviced?
Note:
Oil Tanks
(especially exterior oil tanks) have special requirements. You'll need to know the make, type of tank, and the year it was manufactured. Some insurers will require an Oil Burner Technician's report
Note:
Woodstoves and woodburning inserts
generally require an inspection by a WETT-certified inspector to confirm compliance.   
OTHER IMPORTANT INFO
Are there any outbuildings on the property (like a shed, for example)? Some policies may include coverage up to 10% of the building limit for outbuildings. If your outbuilding requires more coverage, let your insurance agent or broker know!
Is there a pool or a pond on the property?
Are you renting a portion of the house to someone?
Will you be running a daycare or a business from your home?
OPPORTUNITIES FOR DISCOUNTS:
Figure out how you would like to pay – typically, a financing charge is added if you pay monthly. There is no financing charge if you pay the balance upfront.
Does your home have a monitored burglar or fire alarm system? If so, get a certificate from the monitoring company in advance!
If you live in a rural area with no fire hydrants, find out if the fire department is Superior Shuttle Tanker Accredited (https://fireunderwriters.ca/Grading/Superior-Tanker-Shuttle-Service)
Does the property have a permanent backup generator installed?
Opting for a higher deductible (example $2,500) may lower your premium
DISCLAIMER:
Not all insurance companies are similar. Some require more information, and some have different rating systems in place. These are simply guidelines to help your quoting experience run smoothly.  
---
Nicole Pauli is an experienced buying agent in the Guelph, Kitchener, Cambridge, and Waterloo areas who aims to find the perfect home for her clients while expertly navigating the curveballs of today's real estate market.
Interested in beginning your buyer journey with Nicole? Let's chat!
Contact me
.